Uncontested Divorce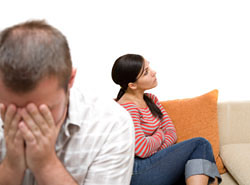 If you and your spouse have decided to end your marriage and can work together to come up with a divorce agreement, an uncontested divorce may be the right choice for you. Cheaper and easier than a contested divorce, an uncontested divorce allows you to settle the terms of your divorce rather than leaving it up to the court.

Although it is possible to go through an uncontested divorce without legal representation, having a lawyer you can speak to is highly recommended. Your divorce lawyer can offer advice and look over your settlement before the final divorce order is issued to ensure that your best interests are protected.

While an uncontested divorce allows you and your spouse to determine the terms of your settlement, your case may still have to be reviewed by the court if you have minor children. The court will look over evidence and conduct interviews to decide custody arrangements and the amount of child support that will be ordered. If you do not agree with the court's recommendation, you will need a divorce lawyer to intervene and your divorce will no longer be uncontested.

Please keep in mind that both sides most agree on all aspects of the settlement during an uncontested divorce. If one spouse is seeking alimony or a portion of the other's pension plan, and the other spouse doesn't agree, the divorce is no longer uncontested. In this case, you will need to hire a lawyer to negotiate with your spouse's lawyer or take your case to mediation. If you and your spouse still cannot reach an agreement, the court will make the decision for you. 

An uncontested divorce has many advantages over a contested divorce; it is cheaper, easier, and--in some cases--more amicable. However, there are some times when an uncontested divorce is a bad idea. If you are involved in an abusive relationship with your spouse, negotiating the terms of your divorce can be difficult. A divorce lawyer can act as your advocate to ensure you receive a fair settlement.
An uncontested divorce may also not work if you and your spouse are unable to speak to each other. If your spouse refuses to discuss the divorce with you in order to work out an agreement, you may need to hire a lawyer to begin the contested divorce proceedings.